School Notice
Brentwood Elementary is now closed for the summer break
Our office will reopen on Aug. 27, 2018.
If you have questions about registration, call the school office when we reopen. If you have any other school-related questions, contact the Central Administration office at Elk Island Public Schools at 780-464-3477.
To learn more about Back to School visit eips.ca
Kindergarten classes begin Tuesday, September 4
For school specific information visit our kindergarten page
New Student?
Haven't registered for the 2018-19 school year yet? That's ok, there's still time. Simply complete the New Student Registration Form. For tips on filling out the form, see How to Register a New Student.
Learn where your designated school is, how to register and the programs available to EIPS students.
Purchasing school materials? Before you shop, check your child's school supply list.
Tools for School
If you're a parent, or know of a parent, who needs help purchasing school supplies, we can help. EIPS has once again partnered with the United Way for the 2018-19 Tools for School campaign. Annually, Tools for School provides backpacks filled with school supplies to students in kindergarten to Grade 12 whose families have limited resources. When classes resume, the backpacks are respectfully distributed to students who've order them. To place an order, contact the EIPS Central Administration office at 780-464-3477.
All families using EIPS Student Transportation services for the 2018-19 school year have received a tentative route schedule and the applicable invoice—transportation fees can be paid online by logging into the PowerSchool Parent Portal or at the EIPS Student Transportation office.
Haven't registered for Student Transportation yet? There's still time.
Contact Student Transportation at 780-417-8151.
Bus passes and updated route information are mailed to families in August.
School Fees
Families are invoiced for school fees at the beginning of every school year. Fees are due within 30 days of the invoice date. The simplest, and most convenient, way to pay schools fees is by logging in to the PowerSchool Parent Portal and clicking on "Student Fees." If circumstances exist where you are unable to pay your students fees, you can apply to have fees waived by submitting an Application for a Waiver of Fees.
For more information:
EIPS fees and waivers
Brentwood Elementary fees
Student Transportation fees
Still have questions about school startup?
Contact the EIPS Central Administration office at 780-464-3477 or visit www.eips.ca for more information about back to school.
We look forward to a great year ahead and seeing all of our students back on September 4!
Have a Great Summer!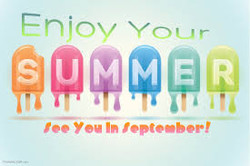 As the school year comes to a close, our minds and hearts are filled to the brim. It's been a great year! What a school! Together we've learned much and shared experiences that will long remain with us in the years to come. The strength of our community and wholehearted passion to make our school a wonderful place of learning for our children primarily but for all of us makes Brentwood truly a special place.
Special thanks to all of you who have contributed in ways small, large and unimaginable! Volunteering in the library, helping with school pictures, organizing events, working at these events, showing up to support your children, serving on committees, sharing your talents, and hosting late night meetings. Thanks for getting your kids to school on time each day, for kind notes of encouragement that mean so much, for sending your kids with healthy lunches obviously packed with love, for making sure homework gets done… and turned in. For these, and a million other things, we are truly grateful.
May your summer be filled with play, exploration, and lots of time spent outdoors. This is a great way to learn and we live in an amazing place.
To those of you who are leaving us for new places and adventures, we wish you all the best. Congratulations to our very capable 6th graders who are onto a new stage in their academic career! And, well-wishes, albeit with saddened hearts for our many staff as you move to new positions within the district. You've been a gift to us this year and will undoubtedly be a great asset to your new schools. For the retirees, enjoy the freedom your hard work and dedication has earned.
Division News